Zean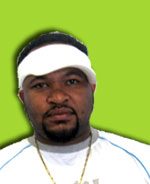 Presenters Name
Zean
Show Title / Genre
Vibez squad
Interests & Hobbies
Playing music/ socialising
Musical Background / History
I started playing music a few years ago. It started out as a past time, now it's become apart of my life. I've organised lots of musical functions which have all been successful.
How did you get involved in GFM?
I know people who work there. The type of music they play there is to my liking and my friends of mine thought it would be good for me because of my love for music. So I thought I would give it a try.
Achievements
I have been recently nominated by the "Big Eye" and "Air Jamaica" for the most outstanding sound system which I won an award.
Musical Aspirations
As far as this business can take me to be recognised as one of the top djs and sound system in this era. In five years time I want to fulfil all my dreams and aspirations or on the way to fulfil them.
Most influential tracks
Jimmy cliff- Many rivers to cross.
Message to GFM Community
What ever task I pursue is always done with 100% effort and is done to the best of my ability.