Virtue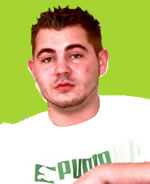 Presenters Name
James Hooper / Virtue
Show Title / Genre
The Liquid Drum and Bass Show presented by Stilla Audio
Interests & Hobbies
Production, DJing, socialising with friends, spending time with my other half and my son, working on the house, video games, pool/snooker on occasion,
Musical Background / History
I got into the scene in late 2002/early 2003 when I was just 12 years old, I then proceeded to turn my head to DJing, which then led me to getting onto an internet radio station playing drum n bass.
I managed to start sneaking into local nights, just to be that little bit more part of the scene, then started playing at them (I guess when you have a vinyl bag with you no one bothers to I.D you!)
I now produce music at my home studio where and have acquired a couple of releases under my belt. Watch this space…
How did you get involved in GFM?
I got involved with GFM 3 years ago, after Callide had been on at me to send a demo for a while, when I felt my time was right, and a position opened up, I sent in a demo and the rest is history…
Achievements
My son
My first release of my own tracks at the age of 20
Subsequent signings/releases
Being the youngest radio presenter a particular station had at 13 Djing live outside of Gloucester (as well as in) at just 16 Getting into Gloucester district rugby team Becoming a member of GFM
Musical Aspirations
With my music now being on the market, hopefully things will keep moving in a forward motion for me, obviously the goal is to be a household name at some point, but who knows! Keep putting the work in and it may be so. GFM is definitely another step in that right direction.
Most influential tracks
Most Influential Tracks Eminem – It's Okay (Hip hop – "Infinite") (Always makes me feel better about my life when it takes a turn for the worse) Logistics – West Country (Drum n bass – "Release The Pressure EP") (Just take note of that dirty sub bass!) DJ Shadow – Stem/Long Stem (Alternative – "Entroducing") (Pure musical genius)
Message to GFM Community
Find your own sound, what music needs is originality, if it sounds good to you, 9 times out of 10 it is, so do it. Always go with your gut instinct but take constructive criticism, the only way to better yourself is to know where you're going wrong.