Si James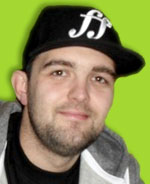 Presenters Name
Si James
Show Title / Genre
Heavyweight Mix
Interests & Hobbies
Dj-ing, Music, Football, Apple Products!!!! n
Musical Background / History
I have always loved music from an early age, as I got older I was introduced to dj-ing and I have never looked back!! I now have been dj-ing in nightclubs all over the UK, and alongside some of the urban industries biggest acts / dj's….Kano, Bashy, Heartless Crew, N Dubz, and also Jagged Edge & Blackstreet too!
How did you get involved in GFM?
I have wanted to have a radio show for ages and GFM is the best station for the genre of music I play!!
Achievements
Dj-ing in night clubs around the UK, being accepted into the UK's biggest Urban Movement the Hott2Deff Squad! Also Dj-ing New Year 2009 / 10 @ O2 Arena Birmingham with 1500 in front of me
Musical Aspirations
To be promoting nights, and having a radio show on 1xtra, music is my life, so in 5 years time if I have music im happy
Most influential tracks
BIG – Juicy
Gwen McCrae – love that im giving
There are so many more……
Message to GFM Community
Keep supporting GFM
Keep Tuning in!!