Paulette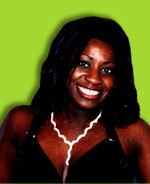 Presenters Name
Paulette
Show Title / Genre
Saturday Soup/ Topical Discussion
Interests & Hobbies
Fashion, Interior Design, Reading, Travel, Music and Socialising
Musical Background / History
My brother had his own slot on GFM and many family members are involved in music in some shape or form, so it was a natural progress for me.
How did you get involved in GFM?
Long time family friend Hazel Gordon. had approached me about co hosting a topical show, I guess because she knows I am very opinionated and enjoy a mental duel
Achievements
Becoming one of the Saturday Soup Crew!
Musical Aspirations
I would like to host my own show and completely master the art of entertaining over the airwaves!
Most influential tracks
Redemption Songs by Bob Marley- The track speaks volumes for it self! Intelligent, touching and thought provoking!
One sweet day by Mariah Carey & Boyz II Men-
For anyone who has ever lost anyone, some reflection in this touching balled.
Crazy in love by Beyonce – the track is simply banging a real booty shaker!
Message to GFM Community
I hope you are enlightened, excited, inspired, humoured, and above all entertained by my presents on and in the GFM Family! Many Thanks for your future support from Paulette x