Patricia Bailey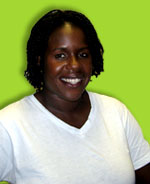 Presenters Name
Patricia Bailey – One of the 3 Angels
Show Title / Genre
Saturday Gospel Show
Interests & Hobbies
Singing, Music, Socialising & Veggie out!!!!
Musical Background / History
I've always had a passion for music and started singing at a very early age my musical background is rooted in gospel but i tend to listen to a wide range of music, i love listening to powerful and passionate vocals in any style of music
How did you get involved in GFM?
I was asked by a friend to help him to do a short stint on his show and 4 months later we're still here!!!
Achievements
I've sung in various competitions both in and out of the church singing at @ the gloucester talent competition which i came 1st and at the New Testament Church of God National Youth Talent in which i sang in front of 3,000 people all very humbling experiences
Musical Aspirations
I not sure were this opportunity may lead all I know that I am not here by accident it all in gods plan and i know he will open may doors
Most influential tracks
1) Micah Stampley : I believe – because I do…
2. Any thing by Fred Hammond: because he has such an awesome anointing on his musical ministry he seems to write directly from the father
3. Mary Alessi: I surrender all – that is what I want to do even it can be so hard to do …
Message to GFM Community
Trust in the lord with all your heart and lean not to your own understanding in all your ways acknowledge him and he will direct your path.