General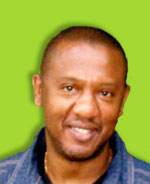 Presenters Name
Eric Newell known as General
aka Satisfaction Gauranteed
Show Title / Genre
Saturday Night Reggae Jam :
All forms of Reggae, R n B and Slow Jam
Interests & Hobbies
My main interest is downloading and playing / listening to music. I enjoy building near perfect cds for resale. I also enjoy building flyers and invitation cards. My hobbies are watching Football, Rugby, playing Badminton and anything to do with computers.
Musical Background / History
I've been in the music business (Sound System) for over 30 years, with Imperial International then changed the name to Imperial Outtanational and now my solo venture as Satisfaction Gauranteed. I've played in numerous venues around the country including Reading, Birmingham, Bath, Nottingham, Bristol, Cardiff and Newport just to name a few. I've played in the same venue as a few of the countries top sound systems however it would be deceiving of me to compare us because these top sounds were head and shoulders bigger and better than us.
How did you get involved in GFM?
I've known the management team of GFM for many years, I were asked during its early years about presenting a show but I must submit a demo cd, unfortunately for one reason or another I never got round to doing one, until now. I think through hard work and determination, the management team has made a fantastic breakthrough in its achievement and I would like to contribute to the pleasure that they provide to the local community by sharing my musical and djing skills.
Achievements
As stated above. More memorable was beating Scoford Perry and Michael Vaughn and crew (can't remember their sound name), in a sound clash up Cheques Bridge Centre many years ago. By rights we should not have won but everything went right for us on the night whilst everything went wrong for them. It's always more fulfilling to achieve something in your home town.
Musical Aspirations
At my age I don't really have any musical inspiration apart providing musical entertainment to any one who will listen for as long as possible.  I've had my time I would like to provide help and support to the younger ones in achieving their potential, because there are plenty of young talented youngsters about.
Most influential tracks
These are my favourites tracks as opposed to most influential.
Strong Love – Vivian Jones
Amazing Grace – Sanchez
Love Mi Sess – Top Cat
Message to GFM Community
I remember years ago went I'd travel to other towns and there were plenty of local radio station playing the type of music that I like (reggae) and I often said to myself why can't Gloucester have a local station like the other 'Big' towns. Well GFM has turned Gloucester into a 'Big' town. It's usually quite difficult to get something, but ever so easy to loose it. GFM has given the Gloucester community the opportunity to share their talent with the wider community so use and don't lose it. As a listener, tune in daily and send in the txt and phone calls, as a business, advertise on GFM or sponsor a program. Big respect to all at GFM.