Gabba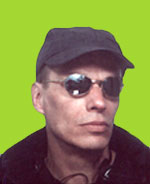 Presenters Name
DJ Shorn Paul, a.k.a Oldie Butt-Goody, a.k.a Daddy Ice, a.k.a Gabba.
Show Title / Genre
The Good Groove Show, with The Herbz & Spices Crew: Reggae, R&B, and
Hip-Hop.
Interests & Hobbies
Chillin out with fine foods, Quality Company and good choonz, juggling the odd remix or two, keeping it real and sane (Maybe a little too late for the last part)
Musical Background / History
Otta school and into the local punk rock party's, helping promote local bands and getting involved with youth initiative to keep town centre quiet on Saturday afternoons playing punk, funk and reggae to the local youths. Moved on to the world of sound system, playing with local sounds such as One Love Posse, Knight Rider Sound, One Heart Sound and Black Ice Outernational, promoting our own nights and providing support PA's to a wide range of UK and International recording Artists. Other hobbies developed from this as listeners will already know, the odd remix comes otta studio 42 from time to time.
How did you get involved in GFM?
Having had experience of working community radio stations I was approached and asked to join GFM, you know how the rest goes
Achievements
Through my links a couple of Bristol DJ's got involved with community radio in the mid 90's and also helped the early local community radio stations that came to life in Gloucestermily, shortly afterwards, (Big shouts to Ragga FM & Vibes FM Massive)
Musical Aspirations
Just to be enjoining the music scene as much as I am at the present. Hopefully to be a lot more computer literate than I am at the moment and healthy, wealthy and wise would also be a nice bonus too. Oh yes and a nice recoding studio and a big compurt an…
Most influential tracks
Pretty Vacant, Sex Pistol: Picture On The Wall, Natural ites / Realistic& Mikey Dread: Woo Hah (Got you all in check) Busta Rhymes.
Message to GFM Community
" TURN ON! TUNE IN!! ROCK A- WAY!!! " One love to all family, friends and fans, give thanks daily and keep it real and authentic.