DJ Digital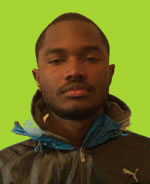 Presenters Name
DJ Digital
Show Title / Genre
DJ Digital presents…………..
The Digital eXperience taking you through the afternoon with Soul, Reggae, RNB & UK Soundz
Interests & Hobbies
Sound engineering

Musical Background / History
A bit of jazz, dance/techno, reggae/dancehall, as my ear enjoy

How did you get involved in GFM?
I heard an appeal being made on the station for presenters

Achievements
Most Improved Student at primary level, won medals in athletics from primary to secondary level of schooling. Getting the grades to enter traditional high school and later gaining several O levels at the end of five years in high school and most recently becoming a presenter on Gloucester FM.

Musical Aspirations
I want to be a world class DJ as well a music composer for films and games as well as other things

Most influential tracks
Have to say; different stages have different influences

Message to GFM Community
KEEP IT LOCKED!