Derek B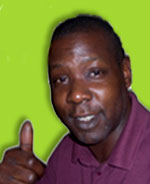 Presenters Name
Derrick Brown/Derek B
Show Title / Genre
R & B, Classic soul music
Interests & Hobbies
Music is my main hobby; I enjoy listerning to reggae & culture but enjoy playing and collecting R & B and classic soul, which is my origin.  Other interests include watching football especially when it's the Gunners!
Musical Background / History
I have been in the music business since the early 80's, starting out playing at house parties, weddings, christenings with the early sound Mainsqueeze, remembering playing on a one deck sound system from 11pm – 9am.  Then starting up the radio station Lightening 90.8fm in the early 80's.
Playing Music is second nature for me now, playing on one of the main stations in London (Vibes 93.8fm), I enjoy entertaining the communities with the dulcet tones of R & B and classic soul.
How did you get involved in GFM?
Whilst visiting Gloucester with a good friend I came to know of GFM by hearing the station on air.  I was introduced to the Derrick Francis and we got to talking, gave him a copy of one of my London shows and here I am today!  Ready to bless the GFM community with some London Vibes!
Achievements
Started up the original Mainsqueeze Sound System as selector and DJ alongside Perri and Courtney.  I have been on Vibes 93.8fm since it's birth way back in the 80's and still have a regular spot now.
Musical Aspirations
To go as far as I can as a DJ, one day seeing all pirate stations given a chance to be recognised.
Most influential tracks
Luther Vandross – Bad boys having a party
Barbara Mitchell – Never had a love like this before.
Melissa Morgan – various tracks
Gwen Guthrie – Outside in the rain
Message to GFM Community
It's a pleasure to be given a chance to drop some heavy tunes to entertain Mums, Dads, babies everybody!