D J Scatta
Name/Stage Name: Scatta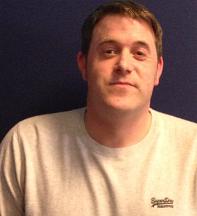 Show title & Genre:
The Drum & Bass Show
Interests & Hobbies:
Music, Sports, Food, Clay Shooting,
Musical Background/History:
20 years DJing experience starting with hardcore back in 93 and progressed to Drum & Bass & UK Garage. But my sole love is for Drum & Bass. I have been very fortunate to play at some amazing events during this time and work with various different promoters at the same time which has given
How did you get involved with GFM?
I was approached by Dj Virtue and asked how I would feel about hosting a show and felt that this would be a great opportunity for me both musically and personally and also it is a great platform to promote all the great talent that is flourishing within the Drum & Bass scene both locally and nationally.
Being introduced and accepted into the GFM family, Perception DJ Competition winner 26th May 2012, regular fortnightly shows on various internet radio stations based within the local area. Random Concept DJ Competition Final Ten Entrant Southern Heats, Various FBK VIP Resident, USZ Resident,
Aspirations are to build my show to be the same caliber as Callide's show and to keep promoting local talent from the Gloucestershire area. Personally I would like to be hopefully playing at a lot more bookings up and down the country and to venture into the world of production and utilise 20 years of playing tunes into my own production style.
Slippin – DMX Life experiences can be expressed through music.
In Love – Chase & Status feat Jenna G All time anthem and always in my CD wallet, such a feel good tune.
2 Degrees – TNT This tune is responsible for getting me back into Drum & Bass. All time classic
Message to the GFM Community:
Looking forward to being part of the GFM family and community and to hopefully bring a unique taste of the world of Drum & Bass to everyone. Looking forward to showing and exposing the talents that Gloucester is nurturing. Proud to be part of it and would like to thank everyone involved for their support.