Callide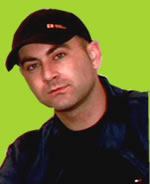 Presenters Name
Dan Robertson / Callide
Show Title / Genre
The Drum and Bass Show
Interests & Hobbies
DJ'ing and travelling the World with music, writing tunes, after parties, films and heavy bassline
Musical Background / History
I got involved in DnB back in 95 and started going out to venues around 96/97. My first real DnB experiences were down at events such as Ruffneck Ting, DriveBy, Apex, 24:7, and Hysteria, which got me hooked. I then got involved with the scene locally by helping with events, parties, flyer design etc and eventually found myself buying some turntables. In 2003 I decided to start writing my own tracks, which soon began to attract interest from DJ's in the area, things kind of took off from there.
How did you get involved in GFM?
I got involved with the station in 2002 after meeting DC through work and a common interest for underground music in the City. I started doing work behind the scenes and after expressing an interest in playing on the station, I was invited to shadow Gary T on one of his shows. After experiencing a 'live' show from inside the GFM studio, I put forward a demo of my own and in 2003 became the presenter of 'The Drum & Bass show' on GFM.
Achievements
– 8 years with GFM and still going strong.
– Setting up and managing my 2 record labels; System Shock Recordings and
Mechanical Audio
– Headlining in at events Mexico, Berlin, Venezuela, Las Vegas, Holland, Italy,
Barcelona, Los Angeles, San Francisco, Portugal and more including record label tours
– Had over 20 releases on vinyl and ten's of thousands of tracks sold all over the world
– Getting signed to Kenny Ken's label – Mix n Blen
– Being an organiser for the Urban Stage at Gloucester Music Festival for 03/04/05.
– Cutting Room winner on L Double's 'connexions' show (1Xtra).
– Being a guest on Ministry of Sound Radio
Musical Aspirations
Keep pushing Gloucester through as a place where DnB is recognised. Gloucester is steadily getting back on the world stage for DnB, thanks to some incredibly talented artists coming out of our City.
Most influential tracks
Supreme – Callide
96 Thing – Dillinja
Lost in This – Ill Logic & Raf
Message to GFM Community
GFM isn't just a station, it's a movement, a way of life and its some-thing that pulls a lot of different people together. Without the support of the community GFM would never be as big as it is now.