Annette Harris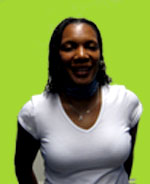 Presenters Name
Annette Harris – One of the 3 Angels
Show Title / Genre
Saturday Gospel Show
Interests & Hobbies
I love travelling, I love being a helper and socialising. I enjoy most sports especially Basketball, I used to play and also a Referee for the Gloucester League in both the Men and ladies. Whilst playing for Gloucester I received an M.V.P. award (most valuable player). It was a great achievement for me, at the time I was the only black female player and also the youngest.
Musical Background / History
I've sung in various choirs, in my local Church, in the Community and the South West Region. I have a wide taste in music but a passion for Gospel…. whether it is soul-gospel, gospel-reggae, RnB gospel, urban gospel, contemporary gospel, or I'd even go as far as opera-gospel (mm)…
How did you get involved in GFM?
A new presenter (a friend) asked me and a couple of girls to come and help out for one week to do some live praise & worship to start his show, and guess what! Months later we're still here and going strong
Achievements
A while back I did a presentation, I introduced a record and shared why that particular track meant so much to me, I was so nervous Bro 'V' asked me to do it live, but I was too scared. Now look where I am today!! God is so good
Musical Aspirations
To do what God wants me to do. If I can help someone as I go along my way, then my living will not be in vain
Most influential tracks
From the old school like …..
Helen Baylor- things were hard for her, but she still kept her faith in God
Juanita Bynum – God brought her through so much, with her head held up high.
Stichie/Papa San – from the dancehall, their story, through God we are more than conquerors.
Message to GFM Community
I feel privilege and honoured to be able to serve you. God knows why he's placed me here at this time…
I want to thank you for taking the time to listen to GFM, it's very important that we continue to support our Community Radio…
"One Love and stay blessed always"…xx