Althia Lyn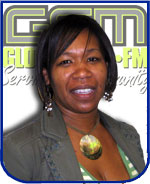 Presenters Name
Althia Lyn
Show Title / Genre
Community Link show
Interests & Hobbies
Music, Reading, Netball, Current Affairs
Musical Background / History
I developed my passion for music from an early age having been raised on a healthy diet of Rock Steady, Soul, Gospel and Reggae music played on Mum and Dad's radiogram. Music has never been far from my ears since. Like many I was raised on John Holt, Alton Ellis, and Delroy Wilson to name but a few. And still hold onto the memory of Sunday afternoons, rice and peas cooking in the kitchen, whilst Jim Reeves played in the background followed up post dinner with a good helping of reggae music. My only experience of DJ ing indeed goes back to my childhood when I would compete with my brothers and sisters as to who could drop the baddest tune on our parent's radio gram.
How did you get involved in GFM?
Volunteering on community Link Show as a news presenter
Achievements
Qualified Social Worker, Committee member on various community enterprises. Mother of two.
Musical Aspirations
Would just like to hear more conscious music with positive, uplifting lyrical and musical content. If the message is in the music then let's make that message more positive and conscious. In the words of Beres Hammond – Remember the days when we used to Rock Away? Those were the days, when love used to reign!
Most influential tracks
At the tender age of 5, Changing Partners by Barbara Jones was probably my first reggae musical memory. Still love listening to it to this day as it reminds me so much of family time and the age of innocence.
To the Foundation – Dennis Brown- Memories of my youth. One of the greatest.
A Change is Gonna Come – Sam Cooke – that intro!
Natural Mystic – Bob Marley – wicked intro, the rest speaks for itself.
Love So Fine/ Set It Off – reminiscent of those good old Power House days – never to be recaptured, never to be forgotten.
I Could Beat Myself – Beres Hammond – wicked rhythm
And too many more to mention
Message to GFM Community
Music by the people for the people. Support your local radio station. Never lose sight of the fact that information is power, which can be used in a positive way to create change for the better.